Thanks as always to The Other McCain for the Rule Five links!
Moving on:  Now this is interesting.  Excerpt:
Clasping hands and forecasting future peace, President Donald Trump and Kim Jong Un committed Tuesday to "complete denuclearization" of the Korean Peninsula during the first meeting in history between a sitting U.S. president and a North Korean leader. Yet as Trump toasted the summit's results, he faced mounting questions about whether he got too little and gave away too much — including an agreement to halt U.S. military exercises with treaty ally South Korea.
Meeting with staged ceremony on a Singapore island, Trump and Kim came together for a summit that seemed unthinkable months ago when the two nations traded nuclear threats. The gathering of the two unpredictable leaders marked a striking gamble by the American president to grant Kim long-sought recognition on the world stage in hopes of ending the North's nuclear program.
Both leaders expressed optimism throughout roughly five hours of talks, with Trump thanking Kim afterward "for taking the first bold step toward a bright new future for his people." Kim, for his part, said the leaders had "decided to leave the past behind" and promised: "The world will see a major change."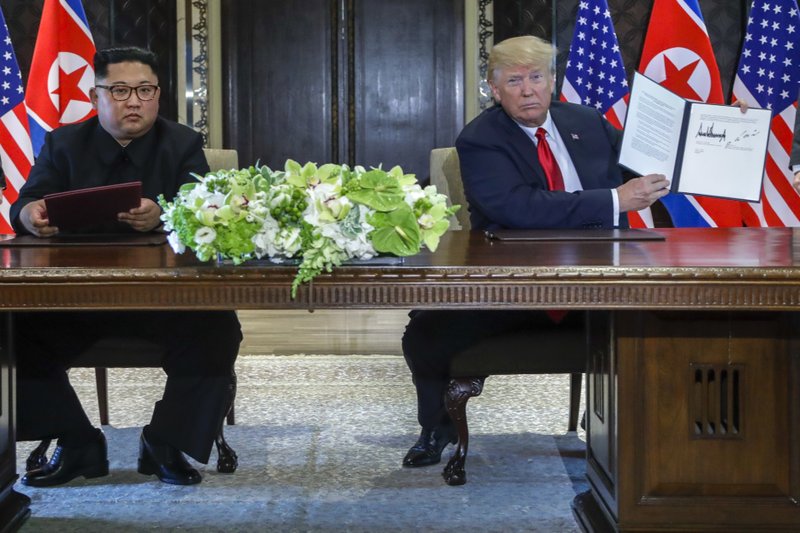 Yeah, major change indeed – if that stunted little gargoyle with bad hair that currently runs the NorKs is being straight-up with the U.S., which I doubt.
Here's what I wonder about this agreement:  The batshit-crazy NorKs have agreed, under pressure of American sanctions, to completely denuclearize.  Presumably, in case they follow their past history and are lying to us (rather likely, in my estimation) there is an "or else" involved.
One would guess that the "or else" is a military option or, at least, re-imposition of harsh sanctions.  President Trump is more than likely to impose the "or else."  But what about the next President?  Or the one after that?
The NorKs have a long history of lying and cheating.  I doubt they'll stop now.